"Lets take some photos with Sims!"
There is a lack of images about this subject. If you have any images for this page, upload them and add them here. Thanks!
Zomburbia
Zomburbia is a Herbal Assault map and the main setting of Plants vs. Zombies: Garden Warfare 2. The Plants have returned to their old home and they must reach Z Academy and crash the party, while the zombies are determined to defend there new home town, to honor their graduates from the university.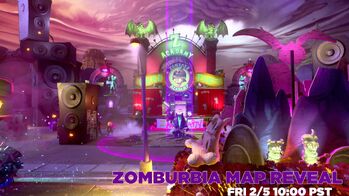 Areas
Scientist's House: Start
All-Star Mansion
Zombie Park
Stage
Academy
Graduation Party: End
Start
The Plants must go in through 4 places to enter Zomburbia and capture The Scientist's House. There are 2 breakable walls, an underground passage and a main gate.
End
The Plants must Wreck the Zombies University by throwing toilet paper, messing up paintings etc. The Zombies must stop them from filling up the meter.
"Plants want us to help them!"
This article is a stub. Please help the EA Games Wikia by expanding it. Thanks!