"Plants want us to help them!"
This article is a stub. Please help the EA Games Wikia by expanding it. Thanks!
"Lets take some photos with Sims!"
There is a lack of images about this subject. If you have any images for this page, upload them and add them here. Thanks!
Star Wars
: The Old Republic™ is the massive multiplayer online game with a Free-to-Play option that puts you at the center of your own story-driven 
Star Wars
saga. Play as a Jedi, a Sith, a Bounty Hunter or as one of many other 
Star Wars
 iconic roles and explore an age over three-thousand years before the classic films. Become the hero of your own 
Star Wars
 adventure as you choose your path down the Light or Dark side of the Force. Load of classes are to play with. Unlock missions to save the galaxy.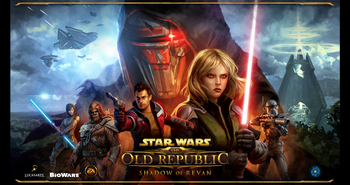 History
Although not officially disclosed, based on estimates, it is one of the most developmentally expensive games ever made. The game had one million subscribers within three days of its launch, making it the world's "fastest-growing MMO ever", though in the following months the game lost a fair share of its subscriptions.[9][10][11] The game is no longer subscription only and has a free-to-play option.[12] The game was met with positive reception upon release and has received several updates and expansion packs. Several books and comics based on the game have been released. It is estimated that the game made $139 million in additional revenues, in addition to the subscription income, in 2013.[13]
Plot
This story takes place in the Star Wars Legends fictional universe shortly after the establishment of a tenuous peace between the re-emergent Sith Empire and theGalactic Republic,[14] 300 years after the events of the Star Wars: Knights of the Old Republic games, and more than 3,500 years before the events in the Star Warsfilms.[15][16] The Jedi are held responsible for the success of the Sith during the devastating 28-year-long Great Galactic War (which led to the Treaty of Coruscant prior to the "cold war"), and thus choose to relocate from Coruscant to Tython, where the Jedi Order had initially been founded, to seek guidance from the Force.[15][17] The Sith control Korriban, where they have re-established a Sith Academy.[18] The game's "Return" cinematic trailer depicts the events where Korriban is re-conquered by the Sith.