History
Mirror's Edge is an action-adventure platform video game developed by EA Digital Illusions CE (DICE) and published by Electronic Arts. The game was announced on July 10, 2007, and was released for the Xbox 360 and PlayStation 3 in November 2008. A Microsoft Windows version was released on January 13, 2009. Mirror's Edge is powered by the Unreal Engine 3, with the addition of a new lighting solution, developed by Illuminate Labs in association with DICE.
Mirror's Edge is set in futuristic dystopian society, in which a network of 'runners', including the main character, Faith, act as couriers to transmit messages while evading government surveillance. In the style of a three-dimensional platform game, the player guides Faith over rooftops, across walls, through ventilation shafts, and otherwise within urban environments, negotiating obstacles using movements inspired by parkour.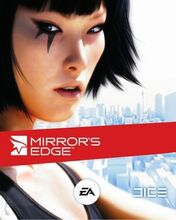 Plot
In Mirror's Edge, the player controls the protagonist, Faith, from a first-person perspective as she is challenged to navigate across a gleaming city, by jumping between rooftops, running across walls, and gaining access to buildings through ventilation shafts. This is accomplished by use of techniques and movements inspired by the discipline of parkour. There are also enemies to fight.