"Plants want us to help them!"
This article is a stub. Please help the EA Games Wikia by expanding it. Thanks!
"Lets take some photos with Sims!"
There is a lack of images about this subject. If you have any images for this page, upload them and add them here. Thanks!
Dragon Age: Inquisition
 is an action role-playing video game developed byBioWare and published by Electronic Arts. It was released in 2014. The third major game in the 
Dragon Age
 franchise, 
Dragon Age: Inquisition
 is the sequel to 
Dragon Age: Origins
 and
Dragon Age II
. The game was released in November 2014 for Microsoft Windows, PlayStation 3, PlayStation 4, Xbox 360, and Xbox One.
The story of Dragon Age: Inquisition follows a player character known as the Inquisitor on a journey to settle the civil unrest in the continent of Thedas and close a mysterious tear in the sky called the "Breach", which is unleashing dangerous demons upon the world.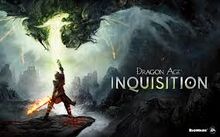 Plot and Gameplay
Dragon Age: Inquisition is an action role-playing game similar to its predecessors. At the beginning of the game, the player chooses a race for their player character: human, dwarf, elf, are playable races, with Qunari playable for the first time.[6]Players customize the Inquisitor's physical appearance, and gender, among other things.[7] Players choose from three classes, warrior, mage, and rogue, and can specialize their character, which grant them specific abilities.[8] The character would later evolve to become the Inquisitor of Thedas, who is considered "holy" by the citizens there. As the Inquisitor, players had to make choices and decisions that affect and change the game's world state.